Twinca Continental 6.90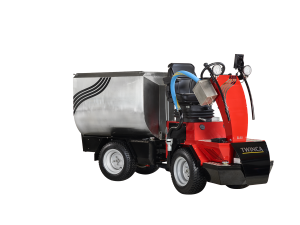 Economic an reliable all-round feeder
Twinca Continental 6.90 is an economic an reliable all-round feeder with a mixer, for min farms off all sizes.
The feed tank hold up to 700 kg.
Water dosing
Oil cooler
Danfoss / Bosch Rexroth hydraulic system
Air cushioned seat
Powerful apivot steering
Safety system
Small turning circle
LED lights
Large range of accessories
Twinca Easy feed computer
The maschine i fleible and has a very small turning circle.
Technical specifications
Model number: 6.90
Hydraulics
Oil quantity: 42 l
Operating pressure: 195 bar
Engine
Make: Kubota
Model: 1105 / 1505
Power: 26 / 36 hp
Cylinders: 3 / 4
Cooling: vand
Propulsion
Oil quantity: 78 l
Operating pressure: 210 bar
Propulsion: 2 / 4 WD
Cooling: olie
Electrical system
Battery: 65 Ah / 12 V DC
Capacity
Hydraulic tank: 50 l
Diesel fuel tank: 50 l
Fodder tank: 900 kg
Water tank: 70 l
Weight
Total weight: 950 kg
Dimensions
Height: 150 cm
Length: 321 cm
Width: 90 cm
Dokumentation:

Twinca Fodermaskine - Continental 6.90
Twinca Hovedbrochure 2016
Twinca Prisliste 2016
Twinca Main 2016
Twinca Feedingmachine - Continental 6.90
Twinca Price 2016