Twinca Royal 8.20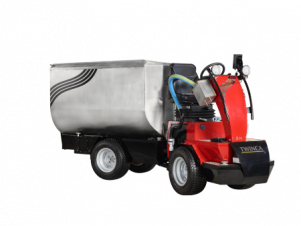 Efficient Feeding Machine with Mixer
Twinca Royal 8.20 is a feeder machine with a mixer for the future-oriented mink farm.
The feed tank hold up to 2000 kg.
The maschine is designed for large scale operations an in a strong and contemporary design. The patented feed pump ensures a precise amount of food.
Water dosing
Oil cooler
Danfoss / Bosch Rexroth hydraulic system
Air cushioned seat
Powerful articulated steering
Safety system
LED lights
Large range of accessories
Twinca Easy feed computer
In combination with Twinca Step, Twinca Royal provides a unique feeding concept.
Technical specifications
Model number: 8.20
Hydraulics
Oil quantity: 42 l
Operating pressure: 195 bar
Engine
Make: Kubota
Model: 1505
Power: 36 hp
Cylinders: 4
Cooling: vand
Propulsion
Oil quantity: 78 l
Operating pressure: 210 bar
Propulsion: 4 WD
Cooling: olie
Electrical system
Battery: 65 Ah / 12 V DC
Capacity
Hydraulic tank: 50 l
Diesel fuel tank: 50 l
Fodder tank: 2000 kg
Water tank: 100 l
Weight
Total weight: 1400 kg
Dimensions
Height: 165 cm
Length: 421 cm
Width: 100 cm
Dokumentation
Twinca Hovedbrochure 2016
Twinca Fodermaskine - Royal
Twinca Prisliste 2016
Twinca Main 2016
Twinca Feeding Machine - Royal
Twinca Price 2016