Twinca Farmer 4.70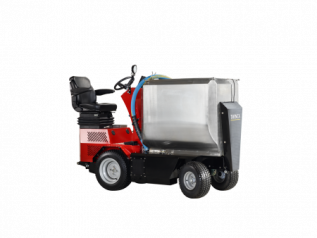 Handy and flexible Feeding Machine
Twinca Farmer 4.70 is a handy and flexible feeder with a mixer.
The feed tank hold up to 700 kg.
The maschine is designed for large scale operations an in a strong and contemporary design. The patented feed pump ensures a precise amount of food.
Water dosing
Oil cooler
Danfoss / Bosch Rexroth hydraulic system
Air cushioned seat
Powerful articulated steering
Steering mounted on sturdy ball bearings
Safety system
Small turning circl
LED lights
Large range of accessories
Twinca Easy feed computer
The feeder can be combined with, among other things, a spreader.
Technical specifications
Model number: 4.70
Hydraulics
Oil quantity: 42 l
Operating pressure: 195 bar
Engine
Make: Kubota
Model: 1105
Power: 26 hp
Cylinders: 3
Cooling: vand
Propulsion
Oil quantity: 78 l
Operating pressure: 210 bar
Propulsion: 2 WD
Cooling: olie
Electrical system
Battery: 65 Ah / 12 V DC
Capacity
Hydraulic tank: 30 l
Diesel fuel tank: 30 l
Fodder tank: 700 kg
Water tank: 60 l
Weight
Total weight: 800 kg
Dimensions
Height: 150 cm
Length: 220 cm
Width: 90 cm
Dokumentation:
Twinca Hovedbrochure 2016
Twinca Fodermaskine - Farmer 4.70
Twinca Prisliste 2016
Twinca Main 2016
Twinca Feedingmachine - Farmer 4.70
Twinca Price 2016